Good morning, I'm Tim Walker with today's essential stories. The briefing is taking a short summer break next week, but will return to your inbox on 12 August.
US retailers line up against administration's new China tariffs
The global markets have taken a tumble after Donald Trump unexpectedly announced on Thursday a fresh escalation in his administration's trade war with China, threatening to slap tariffs on a further $300bn of Chinese goods in September. Wall Street falls late on Thursday were followed by a sharp drop in Asian share prices on Friday morning, while retailers warned that the president's "flawed strategy" was already acting as a drag on economic growth.
Heatwaves drive near-record ice melt in northern hemisphere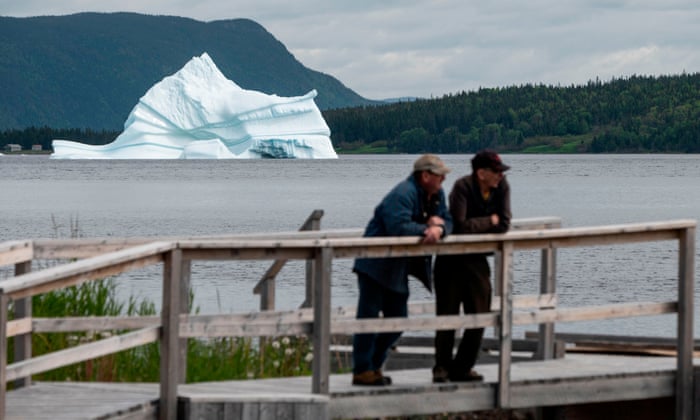 The biggest ice sheet in the northern hemisphere is likely to have shrunk more in the past month than in an entire average year, as a series of summer heatwaves have sparked forest fires in Siberia and sent glaciers into retreat across Europe. Greenland's ice sheet is second only to Antarctica in size; in July, say experts, it shed the equivalent of 80m Olympic swimming pools in surface ice.
17m Americans purged from voter rolls since 2016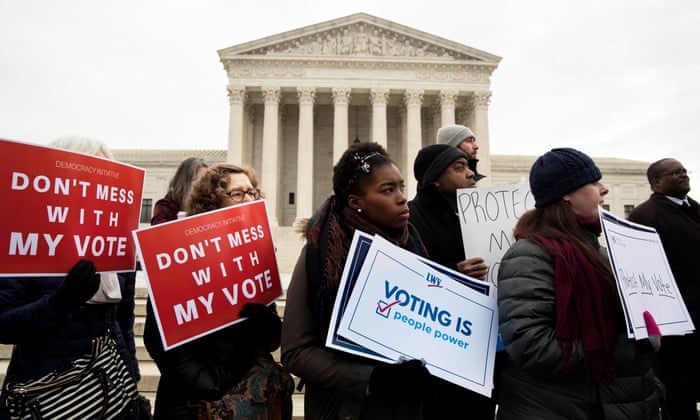 A 2013 supreme court decision that freed counties with histories of voter discrimination from federal oversight has led to an alarmingly rapid purge of voter rolls, according to a study by the Brennan Center for Justice. At least 17 million voters were struck from the rolls nationwide between 2016 and 2018, the study found: a number similar to the previous two-year period. Yet election jurisdictions with a record of egregious voter discrimination have been purging their rolls at a rate 40% higher than the national average.
Will Hurd, lone black House Republican, to retire in 2020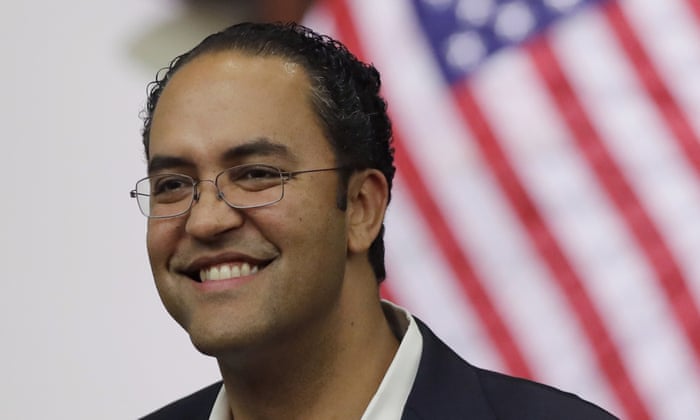 Congressman Will Hurd, the only black House Republican and one of the party's rare remaining Trump critics, has announced he will not seek re-election to his Texas seat in 2020. Hurd is one of many Republicans to have announced his retirement in recent weeks, and his departure deals a blow to the GOP – and not merely by diminishing its diversity. The former CIA officer only just clung to his seat at last year's midterms, making it a key target for Democrats in 2020.
The climate change protesters taking down Macron (literally)
French climate change protesters are taking an unusual but eye-catching approach to civil disobedience: removing framed portraits of President Macron from more than 100 town halls the length and breadth of the country. Angelique Chrisafis reports from Paris.
How we became suckers for self-optimisation
Today's "ideal woman" uses Instagram to flaunt an optimised lifestyle of athleisure and kale to which her peers are compelled to aspire. In this essay from her new collection, Trick Mirror, Jia Tolentino says "the psychological parasite of the ideal woman has evolved to survive in an ecosystem that pretends to resist her."
My unexpected life as a private detective
Emmanuelle Welch was working as a journalist when a magazine asked her to track down several people it had written about years earlier. The experience inspired her to "get better at finding people". Now she's a private investigator, whose cases include embezzlers, drug mules – and even the occasional lost teddy bear.
Trump campaign targets Latinx voters in Florida
Donald Trump may have routinely disparaged Hispanic immigrants, but his campaign team believes conservative Latinx voters in Florida could hold the key to his re-election in 2020. And Democrats fear they may be right, as Sabrina Siddiqui discovers.
Source :